Living Room

Relax on any of the 360 degree rotating sofa chairs while you are savoring that book you have been meaning to read. Don't have a book? Enjoy the magnificent lake views and spot the occasional swan nesting in the reeds at the lake front. Finally, in our typical family tradition, sit and savor the warmth and comfort of the crackling fireplace in the middle of the family room.
The TV is connected to a laptop to assure guests can watch their favorite shows on their favorite streaming services. Satellite service is provided free of charge. The service includes US News and German television channels. Sink into our reclining leather sofa and enjoy a pleasant evening on us. Board games are located in the TV Entertainment Center and a 600W Bluetooth Soundbar is ready to be paired with your personal music service.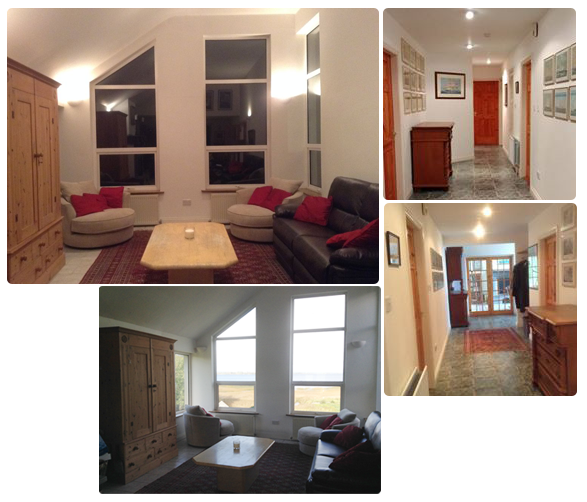 House Rules
Please consider the following rules when booking this property:
Pets allowed with prior approval
ABSOLUTELY No parties/events
Exclusive Lakefront Home on 5 Acres.
Look Now!
Vikings Landing is a gated lake-front property in beautiful Dromineer, Ireland. Built originally in 1996 and upgraded in 2016.
You will have an amazing hillside view of Lough Derg (Lake Derg), free Wifi, a massive fireplace, 4+ acres of secluded private land and private lake-front access.