Things to do in Dublin Ireland
What are the Best Things to do in Dublin Ireland?
If you are planning a trip to Dublin, Ireland, or will just be passing through, there are plenty of things to do in the area. If you want the real Dublin experience, you might not want to rely on the standard tourist traps. There are so many
places to visit
.  It is important to check out some of the most popular places for Dublin residents to go. Whether you are there for a few hours or a few weeks, here are the must-see spots in Dublin, Ireland.
List of 25 Best Things to Do in Dublin Ireland
Tour Trinity College
One of Ireland's oldest universities, Trinity College is a great spot to visit for book lovers. The building, originally built in 1592, provides you with a look into the past from both the building and its contents.
Trinity College is also the home of the Book of Kells, which is a beautiful 1000-year-old book containing manuscripts of the four Gospels and the New Testament. Because the school is still in operation, you will need to visit during school quarters when it is accessible to the public.
Visit Kilmainham Gaol
If prisons and history is your thing, Kilmainham Gaol is a must-see. The interior looks almost like something out of a movie and does not look like your typical prison. With a brilliant staircase and bridge system and top dome, you can easily get lost in thought as you take in all the stunning architecture.
The prison has now been turned into a museum, making it a perfect place to learn about some of the grimmer histories of Ireland and life as a prisoner. There are tours daily so it is easy to fit it into your trip.
Walk Across A Famous Bridge
If you haven't figured it out yet, Ireland is full of beautiful buildings and stunning architecture. If you want to have a more casual experience of Dublin and its architecture, you should check out one of the most famous bridges in the town. Ha'Penny Bridge hangs over the River Liffey and is a pedestrian bridge that provides you with a great place to take pictures and enjoy the view. This is especially beautiful at sunset.
Another bridge worth visiting is the Samuel Becket Bridge. This spectacular bridge is modeled to look like a traditional Irish harp. You'll get to admire the beautiful structure as you take a nicestroll across the river.
Grab A Pint At The Guinness Storehouse
What tour of Ireland would be complete without a pint of Guinness? If you want to learn a little bit more about the famous drink and its connection to the town, then the Guinness Storehouse is for you. It is hands down one of the most popular spots in Ireland to visit. The building's atrium is built to look like a pint of Guinness and lets you walk around to learn how it is made while enjoying a drink.
Check Out A Local Hotspot
If you want to avoid the more standard tourist attractions, or just want to enjoy some downtime, checking out a local bar or club can be a great idea. Places like Temple Bar have become hugely popular because of the iconic design and atmosphere. With a history that dates back to the 1300s, you can get a great look at a traditional Irish bar without being too much of a tourist.
If music is more your scene, Whelans is a must. You get to see some big names as well as some great up and comers in a more intimate setting. At Whelan's, you are guaranteed a once in a lifetime show you will remember for years to come.
Tour The National Museum Of Ireland
A completely free experience, the National Museum of Ireland provides a wide range of exhibits that has something for everyone. From gold artifacts to Viking relics and even mummies, you can spend hours walking around and checking everything out.
It is also worth noting that the museum also offers a unique exhibit known as the "bog men". These are actual bodies that were pulled from the local bogs that all have their backstories.
Picnic At Stephen's Green
If you want some downtime between visiting monuments and hotspots, Stephen's Green is perfect. Walk along the water and feed the birds, or pick a spot to sit down and have a nice picnic.
Check Out The National Gallery Of Ireland
Art galleries are often overlooked when choosing where to visit. But for anyone who has an appreciation for the arts, you know that there are few things better than seeing art work up close and in person. Filled with Irish artists, Dutch masters and Italian Baroque pieces, there is plenty of beautiful work to take in at the National Gallery of Ireland.
Tour Dublin Castle
Europe and castles go hand in hand. So it only makes sense that Dublin would have its castle. Dublin Castle has a rich history and was a major location during the conflict between Ireland and England for hundreds of years.
Walk Around Glasnevin Cemetery
Whether you have Irish ancestry or just want to look around, the Glasnevin, or Prospect Cemetery is one of the largest and most famous cemeteries in Ireland. It has been open since 1832 and includes many famous people like Daniel O'Connell, Luke Kelly, Michael Collins, and Eamon de Valera. With over 1.5 million people buried in the cemetery, you never know who you might find.
Take In Your Surroundings In Phoenix Park
With beautiful green fields, wild deer roaming around and the Dublin Zoo inside, Phoenix Park is not your normal park. You can tour the zoo, then pick up some food at the nearby City Centre and enjoy a picnic lunch out on the park green while you watch the deer walk around.
But don't be surprised when the deer come up to visit. The deer roam freely after being introduced in 1662 but have been around people so much that they are now used to your presence and won't shy away.
Take In The Jameson Distillery
Traditional Irish whiskey was a major export for a long time and Jameson was one of its top earners. Now that the Distillery has been closed, the building serves as a museum that informs visitors of the rich history surrounding the brand.
If you want to see a real functioning distillery, you should check out Teeling Distillery. You will get to see how the whiskey is made as well as do a tasting to see the differences in high-quality whiskey.
Visit Oscar Wilde's House
Oscar Wilde's childhood home and monument are both in Dublin. If you are a fan of Wilde and his works then it is a must-visit spot. Looking at the home and what surrounds it gives you a look into Wilde's childhood and what could have inspired him. Across from the home is a memorial statue of Wilde in a beautiful park.
Take In One Of The Beautiful Cathedrals
With its strong Catholic history, it only makes sense that there are going to be many churches and cathedrals in Dublin. But whether you are religious or not, the sheer beauty of these buildings is enough to make them worth checking out. From stunning stained glass to gorgeous stonework, Saint Patrick's Cathedral, Christ Church Cathedral and Oratory of the Sacred Heart are all something to see in person.
Take A Professional Tour Of The City
There is a wide range of monuments and tourist spots in Dublin that are worth checking out. But if you don't have a vehicle, or just want some more structure so you can see as much as possible, a professionally guided tour is a good option. You can opt for biking tours or bus tours and they will make sure you see all the highlights of Dublin and reduce your stress from trying to find all the places on your own.
Enjoy Some Great Food
You will inevitably need to get something to eat while visiting Dublin. But rather than rely on chain restaurants that are all over the globe, look for a chance to try some of the best local places.
Gafton Street is a great place to start when looking for good food and drinks because you can walk around and take in the local culture while enjoying a wide range of options.
Other places to consider when in Dublin include an amazing burrito place known as Boojum and a classy steakhouse called Shanahans. If you are struggling to decide where to eat and need more help all you need to do is look at the reviews of Dublin restaurants and pubs to see just what you are getting. There is a wide range of places and price ranges, so there is something for everyone.
Hike theWicklow Mountains
From the beautiful views to the cinematic connection with the film P.S. I Love You, Wicklow Mountains is a gorgeous place to visit and take a tour. Even the movie could not do this view justice and is something people agree you need to see in person to truly appreciate. Tours of the Wicklow Mountains can be as low as 22 pounds and includes transportation, lunch and some time to roam around and take pictures.
Check Out The Painted Doors
While this may sound a little strange, painted doors are a big thing in Dublin. Because many homes are very similar and lack individuality, Dublin homeowners have taken to painting their doors a unique color to set them apart. This provides something unique to keep your eye on as you travel around to see just how creative the doors get. They also make for some great photography.
See The Cliffs Of Moher
One of the most iconic areas in Ireland, the Cliffs of Moher is a beautiful natural wonder with a view that can take your breath away. Walk around the area to take in the cliff's view of the water and enjoy looking at just how awe-inspiring this naturally created hotspot. It is also a great place to get some exercise as you work off all the great food you've been eating.
Visit Collins Barracks
The former military barracks may not seem like a must-see for you, but should not be overlooked. The Collins Barracks was military-owned and run for over three centuries and now houses the National Museum of Ireland, Decorative Arts, and History.
This means you can get a tour of this historical location and learn about its past, while also enjoying art. So even if you aren't interested in the military aspect, there is something for everyone.
Walk Around The National Botanic Gardens
A great spot for a romantic date or a casual stroll with your entire family, the beauty that surrounds you at the Dublin National Botanic Gardens is indisputable. There is a wide range of plants in the garden with a sculpture garden, vegetable garden in the shape of a castle and a glasshouse all inside. You can walk around the gardens for free, or choose to have a guided tour with information about what is around you and the ability to ask questions for only five pounds.
Tour The Little Museum Of Dublin
With more than 5,000 exhibits, the Little Museum Of Dublin focuses on the history of the city. This includes famous people who have visited, celebrities who were born there and exciting events that have taken place. While many other places combine the history of a variety of places, this museum is all about Dublin and gives you a new appreciation of the town.
See the Spire of Dublin
The Spire of Dublin is hard to miss. You'll spot it from far away as it stands majestically in O'Connell Street. Standing tall and proud at an estimated 120 meters, this awe-inspiring stainless-steel masterpiece glimmers in the sunlight during the day and lights up at night to resemble a unique beacon.
Read In Chester Beatty
A beautiful library with a wide range of books to choose from, if you want to just sit and relax, Chester Beatty is a great option. You can enjoy some peace in the calming environment and rest your feet as you enjoy a good story.
Check Out The National Leprechaun Museum
While many Irish residents may be offended by the mention of the little creatures, Dublin's National Leprechaun Museum embraces the lore. Rather than just strolling around the museum, the people who run this location choose to do a nighttime show where you get to get into the nightmare-inducing stories. Not for the faint of heart, if you love horror and a good scare, this is a perfect choice.
Scenic streets and quaint walkways await in Galway.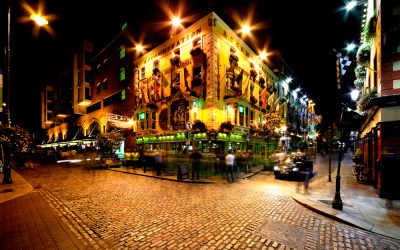 Although the Temple Bar District in Dublin is known today as the heart of the city's art scene and famous bars, Temple Bar wasn't always the trendiest area. Not even 50 years ago, it was a district that most Irish locals would...
read more
Exclusive Lakefront Home on 5 Acres.
Look Now!
Vikings Landing is a gated lake-front property in beautiful Dromineer, Ireland. Built originally in 1996 and upgraded in 2016.
You will have an amazing hillside view of Lough Derg (Lake Derg), free Wifi, a massive fireplace, 4+ acres of secluded private land and private lake-front access.