Best Things to do in Ireland All Year Long
Ireland is at the top of many people's travel bucket lists, and there's no question why with its local charm, rich history, incredible architecture and natural wonders. With so many worthwhile locations to visit, creating a list of places to visit when you're in Ireland can seem impossible.
To make your trip planning easier, here are some of the most significant places you must not miss in Ireland.
20 Things to do in Ireland
Ireland is at the top of many people's travel bucket lists, and there's no question why with its local charm, rich history, incredible architecture and natural wonders. With so many worthwhile locations to visit, creating a list of places to visit when you're in Ireland can seem impossible.
To make your trip planning easier, here are some of the most significant places you must not miss in Ireland.
1. Blarney Stone and Castle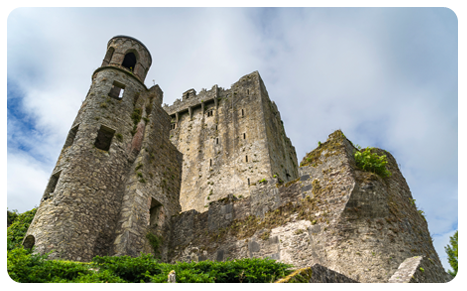 Climb up the narrow, winding staircase which spirals through Blarney Castle's battlements to reach one of Ireland's most iconic tourist attractions and urban legends, the Blarney Stone.
Blarney stone is a Carboniferous limestone that was placed into Blarney Castle in 1446, making it one of the country's oldest tourist attractions. Legend says that those who kiss the over 500 year old Blarney Stone will be granted the gift of the gab. Once you finally reach the top of the 127 step staircase, to properly kiss the stone you must grab a railing and lean backwards positioning yourself under the stone itself, comparable to the position of a mechanic working under a car.
Blarney Castle was constructed in the 15th century and its medieval design, moss covered walls and the gardens with their sprawling green acreages will make it seem as if you have transported to a fairytale. Since Blarney Stone and Castle are some of the country's most popular tourist attractions, try and visit on an off peak tourist season.
2. Cliffs of Moher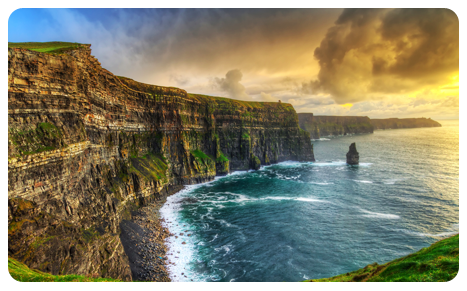 Just as you cannot visit Ireland without seeing one of its magnificent castles, it would be a shame to visit the country without seeing some of its jaw dropping natural sights. The Cliffs of Moher are Ireland's most visited natural attractions, and for good reason. Located in County Clare along the Atlantic coast, is the 8 kilometre stretch of cliffs known as the Cliffs of Moher.
At its highest point, the Cliffs of Moher rise to over 700 feet tall (214 metres) which is more than double the height of Ireland's tallest building.
For those who are afraid of heights, the Cliffs of Moher are still definitely worth a visit as you will have an excellent view of the sea even far away from the edge. On clearer days, you may be able to see the Twelve Pins mountain ranges, Aran Islands and Maumturks in the distance.
The surrounding area is just as worth visiting as the view itself, with scenic hiking trails for every level of hiker. However, try to visit earlier in the morning or closer to sunset, so that the paths will be less crowded.
3. The Giant's Causeway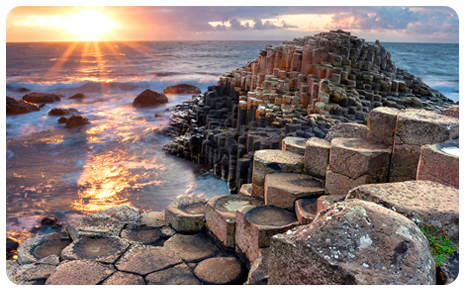 Unsure whether to visit a historical, mythological or a natural attraction? Visit the Giant's Causeway, which is in many ways, a perfect combination of the three. The Giant's Causeway, located in Northern Ireland, is a close to 60 million year old rock formation that was the result of volcanic activity.
Although the UNESCO World Heritage Site is known to have been caused by a million year old volcanic eruption, many legends surround the age old rock formation.
The most popular Irish legend surrounding the Giant's Causeway, which is what earned the location its name, is that the rock formation was actually built by a giant named Finn McCool (Fionn mac Cumhaill) as he tried to connect Ireland to Scotland without having to step in the water.
When visiting the approximately unreal-looking 40,000 interlocking basalt columns, make sure to learn about both the true scientific history and the interesting legends and mythology surrounding the Giant's Causeway.
4. Titanic Belfast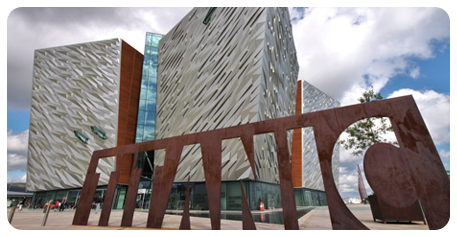 Thanks to the many movie adaptations, the story of the Titanic has in many ways become a legend in of itself. While many people know the ship departed from England to commence on its trip across the Atlantic Ocean, few actually know that the entirety of the ship was built in Belfast, Ireland.
Over one hundred years later, tourists can visit the Titanic Belfast and embark on self-guided tours to learn about the true history of the world's most famous boat voyage.
Learn about those who built the Titanic as well as the real passengers who boarded the ship. Although the tour can be quite expensive, Titanic enthusiasts on a budget can still visit the building and the slipway where the boat was first launched into the water.
5. Visit Some Pubs and Breweries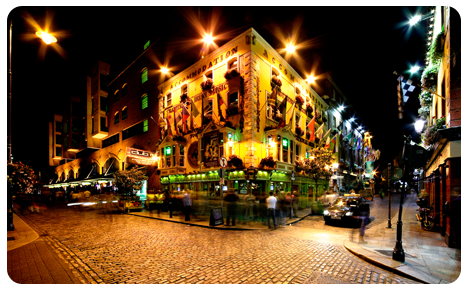 Whether you find yourself in Northern Ireland visiting the Giant's Causeway or in Cork visiting Blarney's Castle, there is likely a nearby pub that will give you the chance to get away from the tourists and meet with the Irish locals.
Bars, breweries and pubs come in just about every shape and size in Ireland, so no matter what you are looking for, there will be a place for you. For those wanting to enjoy a scenic pint in an Irish cottage, visit the Beach Bar in Aughris, Co Sligo. It looks like a classic, somewhat eccentric, Irish farmhouse on the inside but sports incredible views of mountains and the beach on the outside.
While in Dublin, consider a night of Dublin bar hopping, which will give you a taste of just about everything a trip to Ireland should include (such as Irish folk music, the country's finest beer, and classic Irish meals).
6. Sean's Bar
If you are looking to visit only one pub while in Ireland, it should likely be Sean's Bar, which is actually the world's oldest bar. Although the small pub may just seem like any other colourful drinking hole lining the streets of Athlone, Ireland, Sean's Bar is said to have been built over 1000 years ago around the year 900 AD.
Its age was actually discovered during a 1970 excavation, which revealed walls made of 9th century ancient wattle and daub. The pub itself is a classic Irish bar boasting live music, Irish locals and great drinks.
Surrounded by beautiful and colourful Irish architecture, ancient churches, and only a short walking distance away from the River Shannon. River Shannon itself is worth a visit, even for those not interested in indulging in a pint.
7. Guinness Storehouse, Dublin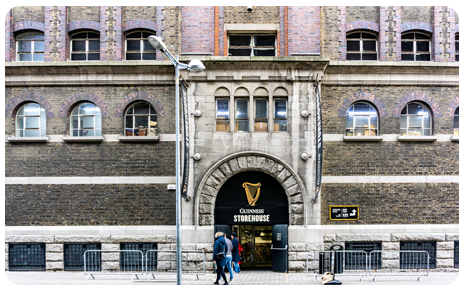 For another interesting pub in Dublin, you should certainly add the Guinness Storehouse to your Irish bucket list. Although it was opened in 2000 and is not quite as ancient as Sean's Bar or many of Dublin's own classic local pubs, the Guinness Storehouse will not only allow you to try an Irish pint but also learn all about the creation process.
The Guinness Storehouse is a 7 floor museum in Dublin with dozens of incredible interactive exhibitions that could easily entertain any beer enthusiast for many hours.
Tour guides fill museum-goers in on just about everything that has to do with the making of Guinness' iconic beer, from the fermenting process to the barrel making. For those less interested in the actual creation of beer, The Guinness Storehouse is still a worthwhile visit with its gorgeous architecture and 7th floor bar which offers a 360° panoramic view of the city below.
Seeing as it is one of the country's most visited tourist attractions, it is best to visit during the off-peak travel season, offering a perfectly entertaining shelter for travelers on colder days.
8. Kilmainham Gaol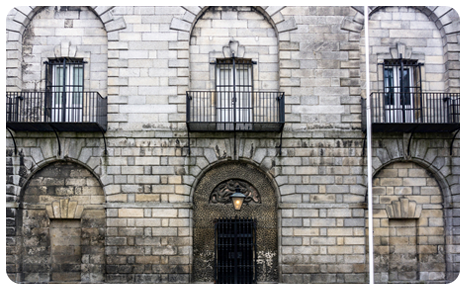 Although tourist attractions such as Blarney Castle and the Giant's Causeway have undoubtedly been around for longer than Kilmainham Gaol, Kilmainham Gaol may contain more history than the two locations combined.
Built in the late 18th century, Kilmainham Gaol in Dublin is one of Ireland's most famous prisons, as it had once held almost every imprisoned Irish leader over the course of the country's long road to freedom.
When it was first built, the Dublin gaol held everyone who hadn't yet been sent to Australia including men, women and children, who all shared cramped cells. However, over the course of many Irish Rebellions, Kilmainham Gaol began holding more notorious people including Charles Stewart Parnell.
Although it may seem grim to visit a prison during your trip to Dublin, Ireland, it is likely one of the best locations in the country to learn about Ireland's difficult and troubled history.
On top of the unique way to learn about the country's past, the upper level of Kilmainham Gaol has actually been transformed into a one of a kind art gallery housing creations from incarcerated prisoners.
Seeing as Kilmainham Gaol is located right outside of central Dublin, a short cab ride away from various other attractions, it is certainly worth a visit for any history buffs.
9. Spike Fortress
If you have a genuine interest in crime, military, and prisons, then Spike Fortress should be at the top of your Ireland list. Spike Island, where Spike Fortress is built, has an interesting history in and of itself.
Originally, the island located in Cork Harbour was used for some sort of monastic settlement which is believed to date back to the 7th century. In 1779, the first fortress was built on Spike Island, but the building that stands there today was actually rebuilt in the 19th century.
In 1847, the fortress was officially opened as a prison, which by the next decade would hold a few thousand convicts during the Great Famine, making it one of the largest prisons in the British Empire at the time. The 103-acre island would soon become an impenetrable prison housing some of the British Empire's most dangerous criminals. It was described as "Hell on Earth" and is often compared to San Francisco's Alcatraz.
10. Black Taxi Tour
If you want to learn more about Ireland's difficult road to freedom, you should take one of the famed Black Taxi Tours in West Belfast. During the time of The Troubles, which plagued Ireland from the 1960s until the end of the millennium, public transportation was no longer safe and neither was walking or taking a cab where you could be easily identified.
By the 1970s, black taxi cabs began picking people up, which provided some sense of safety for those traveling through the city. Today, the black taxi cabs are driven by knowledgeable tour guides, some of whom were actually black taxi cabs drivers during the time of The Troubles itself.
The tours last only around one hour and a half, but within that 90 minute period you will learn everything to know about The Troubles as you drive through the city, areas and locations that were important and affected.
11. Slieve League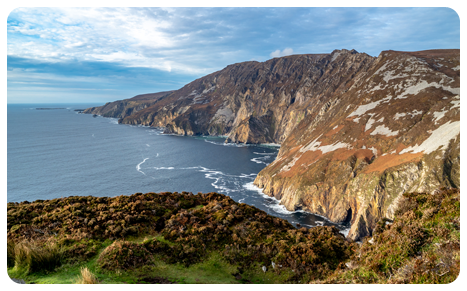 Although the Cliffs of Moher are beautiful, they are far from the only cliffs worth visiting in Ireland. If you find yourself in the Northern region of Ireland, perhaps while visiting Sligo or Belfast, you should pay a visit to Slieve League.
Since the Cliffs of Moher are usually packed with tourists on nice days and peak travel seasons, the Cliffs of Slieve League are sometimes a better option for those wishing to see the magnificent Atlantic coast, without hoards of tourists.
Not only are the Slieve League Cliffs quieter, but they are actually taller than much of the Cliffs of Moher.
12. Bend of the Boyne
Although Bend of the Boyne is one of Ireland and Europe's most impressive historical landmarks, it is often overlooked by passing tourists. Located less than an hour away from Dublin, Bend of the Boyne is a World Heritage Site that is believed to have been built in the 32nd century BC, meaning it might predate the Egyptian pyramids.
Although the site itself is somewhat unassuming, almost appearing as grass covered hills rather than megalithic structures, Bend of the Boyne is actually made up of chamber tombs, graves, henges and standing stones.
It took hundreds of years for historians to begin to comprehend how the pyramids could have been built, yet, it is still mostly unknown how the construction of Bend of the Boyne was possible at the time.
Although Bend of the Boyne is an incredible site to see throughout the year, definitely try to visit during the winter solstice as the ancient building was constructed to allow a light beam to travel through the Newgrange passage grave during this time.
13. Visit Croke Park for a Sporting Match
Just as the Irish are proud of their beer, landscapes and history, they are extremely proud of their sports. The most popular sports in Ireland are actually Gaelic games which are unique to the country.
To enjoy a proper Gaelic game and take in the atmosphere of an Irish sporting event, there is no better place to go than Croke Park, where you will have the option of watching Gaelic football and Hurling. .
Even if you are not a sports fan, there is something magical about the energy in a sporting arena of any kind, and considering how passionate the Irish can be about their teams, you do not want to miss out.
Although the fans will be intense all season long, try to visit during a playoff, quarter-final or semi-final game, as the passion and intensity will be unmatched. Even if you are not a fan of the teams (or if you don't know anything about the sport), you will be much inspired to cheer alongside the other fans.
14. Carrick-A-Rede Rope Bridge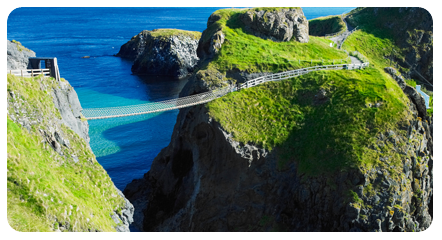 The Carrick-a-Rede rope bridge, located in County Antrim, is not for the faint of heart since traversers have to walk close to 100 feet above the rocks and water below.
Although the rope bridge has been updated over the course of the years to ensure crossers' safety, the original rope bridge was actually constructed in 1755 for salmon fisherman to cast their nets off of. There is a fee to cross the bridge, so before you arrive ensure you hit an ATM, as there aren't any nearby.
15. Glendalough, Dublin
If you are staying in Dublin and looking for a day trip to get you out of the city, consider paying a visit to Glendalough which is located less than 2 hours outside of Dublin's downtown. Glendalough is the perfect bucket list location as it covers just about everything someone would want to see on their trip to Ireland such as historical ruins, fairytale woodlands, rolling hillsides and some of the most beautiful lakes in all of Ireland.
Glendalough's history dates back to the 6th century, when Christian settlers led by St Kevin established a monastic settlement. Glendalough's glacial valley is an extremely popular day trip for both Dublin locals and tourists alike. Although the Dublin site is quite large and you will be able to find space away from tourists, parking can be challenging if you show up in the middle of the day, so consider arriving early in the morning if you are driving.
16. Croagh Patrick
Croagh Patrick is perfect for anyone looking to soak up a bit of Irish history and nature all at once. Saint Patrick is said to have prayed and fasted at the peak of what is now known as Croagh Patrick for 40 days. For centuries, pilgrims have climbed the mountain to honor Saint Patrick on the last Sunday in July, which is still an honored tradition today, so try to avoid taking your hike at that time if you want to avoid crowds.
On a normal day, Croagh Patrick is not entirely empty, but you will certainly be able to enjoy some peace and quiet in nature if that's what you are looking for. The hike itself can be considered intermediate and it takes around 2 hours or so to reach the peak where Saint Patrick was said to have fasted.
17. Killarney National Park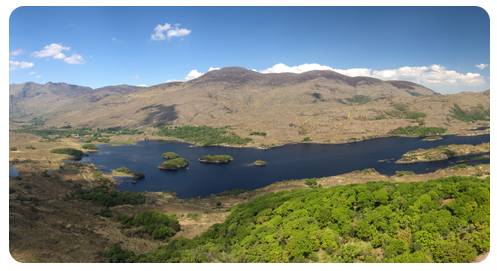 If you are only visiting Ireland for a short time and looking to take in a lot of the country's unique wildlife and landscapes, you should add Killarney National Park to your Irish list. Killarney National Park was actually Ireland's first national park and with 100,000ha of land, there is so much to see.
Upon arrival, you will be greeted with an almost unbelievable picturesque view of rolling green fields, glacial lakes and mountain ranges in the distance.
If you walk through the park, the views only get better as you will be able to see waterfalls, gardens, moorlands. Stay alert and you might even spot a red deer, trout, salmon or some of the over 100 bird species that habitat the park.
18. Dingle Peninsula

The Dingle Peninsula may just be one of the most beautiful places to visit in Ireland, if not in the world as National Geographic once said. At the foot of the Slievanea Mountain, the Dingle Peninsula boasts jaw dropping picturesque jagged cliffs, dramatic Atlantic ocean views, sandy beaches and rolling hills, all of which combine to make the Dingle Peninsula look more like a perfect painting or postcard.
Nearby, you can visit the charming towns which have traditional Irish restaurants, bakeries, pubs and cute little shops.
19. Bull Rock

Bull Rock is one of those places you have to see to believe, and although it is not easy to access, it is worth the trip. To access Bull Rock, you will have to drive to the Beara Peninsula where you can take the country's one and only cable car to Dursey.
From the island of Dursey, you will need to take a boat tour which will allow you to sail around Dursey and view Bull Rock as well as Cow and Calf Rock. Bull Rock itself stands apart and looks straight out of a Dr Seuss novel or a Disney movie and is often referred to as "the Entrance to the Underworld" as its jagged towering rock formation has an opening in the center which you can sail through.
Built upon the already incredible rock formation is an old lighthouse, which has been updated, and a few other unique establishments.
20. Drive the Wild Atlantic Way

If you are visiting Ireland and have access to a car, you should definitely drive even just part of the Wild Atlantic Way. The Wild Atlantic Way is a 2500 kilometre driving route that follows the coast throughout nine counties and three provinces in Ireland.
Although the drive itself is gorgeous, what makes this route special is the over 1000 tourist attractions located along the route including many of the places to visit on this list such as the Cliffs of Moher, Dingle Peninsula, Croagh Patrick, and Killarney National Park.
On top of the incredible coastal views, the route is surrounded by charming villages and small towns that all have their own activities, shops, restaurants, pubs and culture to offer.
If you do not have the time to drive the full 2500 kilometres, you can choose a small portion of the route to explore and even join the locals who travel the Wild Atlantic Way on foot or by bicycle. Seeing as the entire route is lined with many things worth noting such as important historical sites and movie filming locations, there is a free Wild Atlantic Way App that you can download which will guide you through the important locations.
Things to Do in Ireland
Ireland certainly is an incredible country that has so much to offer for tourists, no matter their age, interests or visiting time. Whether you are a history buff interested in learning more about the medieval times or The Troubles, searching for a bustling downtown experience with charming shops, restaurants and pubs, or seeking out some of Ireland's jaw dropping natural attractions, the country has hundreds of bucket list worthy locations.
Although you may not be able to visit every location on the list, that only gives you another reason to come back to Ireland for more.
Exclusive Lakefront Home on 5 Acres.
Look Now!
Vikings Landing is a gated lake-front property in beautiful Dromineer, Ireland. Built originally in 1996 and upgraded in 2016.
You will have an amazing hillside view of Lough Derg (Lake Derg), free Wifi, a massive fireplace, 4+ acres of secluded private land and private lake-front access.